To achieve the expected results, the Component 4: Support to media, foresees to implement the following types of activities:
Training of station managers and editors on strategies to developing and implementing electoral codes of conduct, developing elections coverage plans;
In-depth capacity training for journalists to foster development to partner stations in the pre- and electoral cycle period with a focus on long-term political accountability;
Organisation of platforms of media experts to review and update of "The Nigerian Media Code of Election Coverage" and support effective implementation of Freedom of Information Act;
Promote the use of new and social media platforms to create awareness and active citizen's political participation; organisation of Focus Group Discussions (FGDs) with media stakeholders on media coverage of electoral processes;
Targeted technical expertise and capacity development for National Broadcasting Commission (NBC) Staff;
Organisation of sensitisation media campaigns promoting inclusive political participation.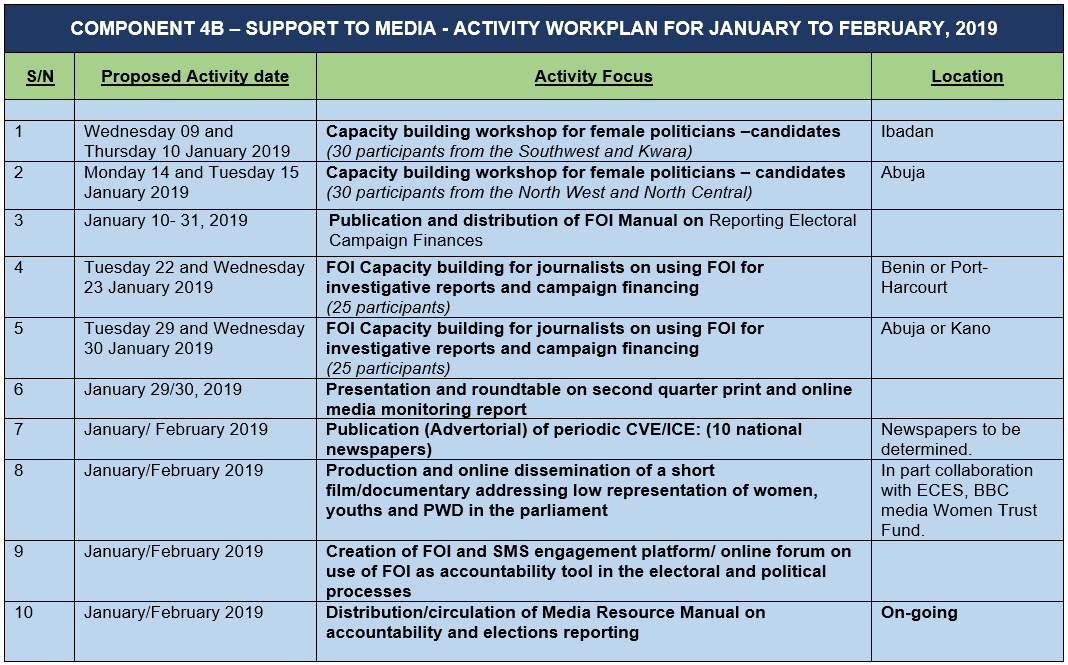 The International Press Centre (IPC), Lagos is implementing Component 4b: Support to the Media, under the European Union (EU) Support to Democratic Governance in Nigeria (EU-SDGN) project.
The intervention is aimed at building a professional media to serve as catalysts of democratic accountability, credible elections and good governance through a process-led media-based interventions with focus on capacity-building on democratic reporting, monitoring, advocacy and engagement of electoral process towards attainment of a stable democratic society. The project circle spans a period of 52 months (January, 2018 – April, 2022) and involves activity implementation across Nigeria with focus to strengthen the media (print/online) to perform the desired role in facilitating accountability and transparency in electoral and governance processes towards enhancing greater media access for women, youths and persons with disabilities (PWDs) as well as media projection of issues of concern to the citizens.
Activities implemented under the project for the year 2018-2019 are as follows:
S/N

ACTIVITY TITLE

LOCATION

IMPLEMENTER

DATE

The upgrade/ redesigning and running of the NDR website www.ndr.org.ng (included the engagement of the NDR team as well as posting/dissemination of model stories and reports on social media platforms);

Online/Virtual platform

IPC

2018-2019-DATE

Conduct of a baseline study and roundtable meeting on the existing trends of media reportage from the 2015 electoral process;

Lagos

IPC

Feb-April 2018

Reproduction and distribution of 20,000 copies of the FOI Act;

Lagos

IPC

2018/2019

Meeting of Expert Group and the content development/production of 20,000 copies of a Media Resource Manual on democratic and accountability reporting;

Lagos/Abuja

IPC

March- August 2018

Stakeholders' meeting to update, publish and disseminate 20,000 copies of the Nigerian Media Code of Elections Coverage;

Lagos/Abuja

IPC

March-July 2018

Training of media monitors/development of monitoring codes;

Lagos

IPC

May 2018

Media monitoring of Newspapers and Documentation of election promises (including conduct of three quarterly roundtables) on outcomes of the media monitoring

Lagos

IPC

May 2018/2019-Date

Conduct of two training workshops for online journalists/bloggers on conflict sensitive reporting online;

Abeokuta/Abuja

IPC

September 2018

Conduct of two Capacity Building Media Workshop for political correspondents;

Abuja/Abeokuta

IPC

September/ December 2018

Production/publishing of four Newspaper CVE advertorial on CVR exercise;

Newspaper Advertorial

IPC

July/August 2018

Conduct of two Media Training workshop on best practices and professional reporting.

Kano/Oshogbo

IPC

October/December 2018

Production of FOI manual on Reporting Electoral Campaign Finances.

Lagos

IPC

October/December 2018

Conduct of four specialized training for female candidates on strategies in ensuring media visibility and in using the media for electoral campaigns

Uyo, Ibadan, Abuja, Yola

IPC

December 2018/January 2019

Roundtable on Media monitoring of Newspapers reportage of elections and democratic governance

Lagos

IPC

December 2018; February 2019/ November 2019