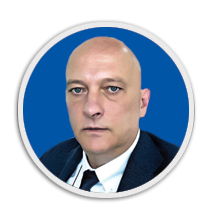 Franco joined ECES in September 2018 as a Procurement Expert and was appointed as EU JDID's Senior Finance and Administration Manager at the end of October.
Franco has over two decades of experience in both the public and private sector. He has extensive international experience in managing organisational and operational contexts, including overseeing administration, procurement and human resources in remote and challenging territories in developing countries. He has done so by bringing together his legal expertise, managerial and operational knowledge, and political experience, to drive organizational and business growth in a number of different settings.
He has worked extensively with the European Union, the Italian government and in the business sector. Franco recently served as Head of Mission Support at EUCAP Sahel Niger, where he oversaw a large Administrative Department and all its units. He previously served as Chief of Human Resources with EUPOL COPPS - Ramallah, Palestine, after having previously also worked at EUSSR Guinea-Bissau first as Procurement Officer and later as Head of Termination Team.
With the Italian government, Franco worked for several years as Chief of Staff for both the Regional Minister for Health and Social Protection and for the Regional Minister for Organisation, Personnel, and Informational Systems. As such, he supported and advised the Ministers in a senior technical-legal capacity, managed all legal, administrative and financial aspects, and notably provided high-level technical and strategic advice which led to the establishment of a Central Health Agency, as well as leadership in complex negotiations with trade unions aimed at the creation of the first Single Division for Civil Service for the Friuli Venezia Giulia Region.