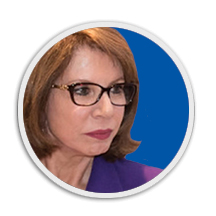 Randa Habib had a long career at Agence France Presse as director for Jordan from 1987 to 2012 when she was appointed director for the Middle East and North Africa for AFP Foundation. A position she held until December 2015.
In 2016, she joined Amnesty International as Regional Director for the Middle East and North Africa until April 2017. She opened the MENA regional office in Beirut and an office in Tunis for the North Africa followed by an office in East-Jerusalem to cover the Palestinian territory.
Together with her work at Agence France Presse (AFP) she was a correspondent for Radio Monte Carlo Al Dawliya (Middle East) since 1988.
She also carried several interviews with leaders of the area.
She has covered extensively Iraq following the 1990 invasion of Kuwait, as well as the March-April 1991 civil war. In 1994, Randa and other journalists were attacked by an armed group near the southern Iraqi city of Basra where Mrs. Habib was hospitalized in Amman for injuries to the skull.
She helped expose the unsuccessful September 1997 attempt by Israeli intelligence to assassinate Hamas leader Khalid Meshaal in Amman.
Aslo,Randa Habib broke the news of the intention of ailing king Hussein to replace the crown prince his brother Hassan, by his son. And she was granted the first interview of King Abdullah ll in March 1999, three weeks after he became king of Jordan.
She is the author of the book "Hussein père et fils 30 années qui ont changé le Proche Orient" éditions l'Archipel in 2007. An Arabic version appeared in 2008 and in English in 2010 by Saqi Books under the title "Hussein and Abdallah: Inside the Jordanian Royal Family"
She is a member of the board of the Jordan Media Institute since its creation in 2006. JMI is a nonprofit organization that offers scholarships for a Master in journalism for Jordanians and citizens of the Arab world.
In 2001 she was named by the French President Chevalier de l'Ordre
National du Mérite In 2008 she was named by the French president Chevalier de la Légion d'Honneur.